New Course Providers and Partnerships
IMA® (Institute of Management Accountants) is pleased to announce the addition of two new course providers and an exciting new educational partnership.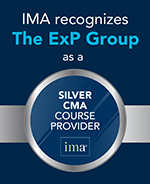 We are pleased to announce a new silver approved course provider in Europe that will help professionals prepare for the CMA® (Certified Management Accountant) certification: The ExP Group, UK.
The ExP Group uses the very latest online learning platforms to offer expert online CMA instruction worldwide. Each course contains everything a CMA candidate needs to achieve CMA exam success, including:
Complete tuition stage video tutorials covering the entire syllabus
Complete practice stage video tutorials covering standard exam questions to ensure you are 100% ready for your exam
Focused energizers and webinars to keep you on track for exam success
Learning reinforcement exercises for you to track how well you are doing
Exam simulation matching the CMA format
Your own unique personalized study plan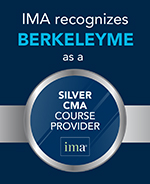 IMA is also pleased to announce BerkeleyME School of Management & Sciences as a new silver approved course provider. BerkeleyME is the largest training and development company promoting American education. BerkeleyME has established a commitment to the highest standards of excellence, integrity, development, and resources. The company educates people who make a difference in the world, and it has a large portfolio of clients all over the world.
BerkeleyME's CMA course will start in July. Visit https://edu.berkeleyme.com/course/cma/ for more information.
"IMA is pleased to welcome The ExP Group and BerkeleyME to the growing list of partners that support the CMA exam program in Europe. CMA course providers play an important role in helping CMA candidates prepare for their exams. By working with an experienced, knowledgeable course provider, candidates can significantly increase their chances of exam success," said Alan Mulder, managing director, IMA Europe.
New MBA/CMA Program in Poland
IMA is also excited to announce a new program that integrates the CMA with MBA studies at the University of Economics in Katowice, Poland. This is a distinctive program of advanced postgraduate studies that can be accessed online. This program will equip students with essential skills for obtaining a Master of Business Administration in Accounting and Finance and also prepare them for global recognition with the CMA certification. The program is one of the three MBA programs offered by the university. Learn more at https://lnkd.in/e_j3mJNW.