Change username form. Insert an info and press enter to submit, or press escape to close.
Create a new account form. Press escape to close.
Validate mail form. Press escape to close.
Lost password form. Insert an info and press enter to submit, or press escape to close.
Confirm address message dialog. Press escape to close.
IMA Europe hosted or participated in several events over the past few months, many of them organized by our chapters:
IMA Switzerland Chapter
In June, the IMA Switzerland Chapter hosted its annual meeting in Zurich, with an event titled "Management Accountants: Leaders in Coping with Disruptions." The event attracted professionals from across the region.
The session featured opening remarks by Ekaterina Emelianova, president of the IMA Switzerland Chapter, with presentations by:
"U-Mushroom: An Innovative Approach to Investment," by Dr. Luba Schoenig and Tonia Zimmerman, Co-Founders of U-Mushroom
"Sourcing Insights to Drive Better Business Decisions," by Marat Lomakov, Finance Director, Europe Supply Chain, Ecolab
"Role of Digital in Creating Agile and Resilient Supply Chains," by Rohit Lohani, Director, Global Supply Chain Smart Operations, J&J Consumer Health
"Supply Chain Challenges: How S-GE Helps Companies Address Them," by Dr. Benno Keller, Head, Corporate Development & Foresight, Switzerland Global Enterprise
More information about this chapter and its activities can be found at the IMA Switzerland Chapter website.
IMA Spanish Chapter
The new IMA Spanish Chapter hosted its first-ever event, a Meet & Greet in Madrid on 14 July. Speakers included:
Roger Medina, secretary of the IMA Spanish Chapter
Alain Mulder, senior director, IMA Europe operations, who discussed future perspectives at IMA in a presentation titled "Where are we headed as IMA Europe?"
Maria del Dado Alonso Sanchez, CMA, Group CFO of Azerion and member of the IMA Global Board of Directors, who discussed her experience as a CMA
Miguel Torres, CMA, director, Prosegur's Transformation Office, and member of IMA's Global Technology Practices and Solutions Committee
Speakers Medina, Torres, Sanchez, and Mulder [l. to r.]
The Spanish Chapter held another event in mid-September, this time in Barcelona. The agenda featured welcome remarks by Regina Thie, IMA Spanish Chapter representative in Barcelona, and a presentation by Leonardo Galeano, who discussed how to build an RPA bot (for more information on that topic, see https://sfmagazine.com/post-entry/january-2022-building-a-bot/). Also in attendance were Alain Mulder and Bernardin Generalao, director, IMA regional partner relations.
MSAR 2022
IMA was a sponsor and Alain Mulder was a speaker at MSAR (Manufacturing and Service Accounting Research) 2022, held in Pisa, Italy, in July. The event, "The Future of Controllership," was a biennial conference organized by the European Institute of Advanced Studies in Management (EIASM) and was attended by approximately 60 individuals. EIASM is an international network for management research and teaching that includes more than 70,000 management scientists from all over the world.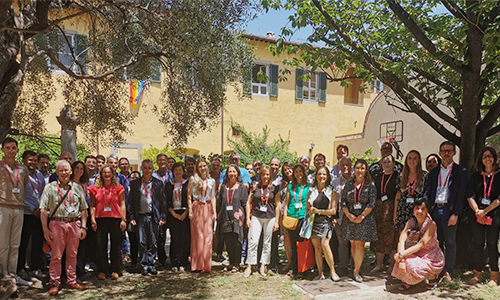 Attendees pose for a photo.
More information about the event can be found at MSAR 2022.