Change username form. Insert an info and press enter to submit, or press escape to close.
Create a new account form. Press escape to close.
Validate mail form. Press escape to close.
Lost password form. Insert an info and press enter to submit, or press escape to close.
Confirm address message dialog. Press escape to close.
IMA Europe hosted or participated in several events over the past few months:
Women's Leadership Series
The IMA Women's Leadership Series, Europe edition, took place virtually on 31 May, featuring speakers Femke Aarts, incoming IMA board member and CFO, NEN; Kobi Ampoma, talent acquisition lead, Getir; and moderator Alain Mulder, senior director, IMA Europe operations, all pictured below. The topic of the discussion was "Beyond Bias: Building More Inclusive Workplaces," featuring a dialogue about creating a bias-free workplace culture:
The panels covered timely topics such as how to:
Recognize and contend with conscious and unconscious bias as a leader.
Address bias from an HR perspective, including how to detect and mitigate bias.
Create and nurture corporate leaders who are committed to a bias-free working environment.
Nearly 100 individuals attended the webinar and engaged in discussions on how to ensure that leaders, along with the people they hire and the cultures they nurture, are conducive to growth for all.
The event was part of a month-long series of discussions in May 2022 with some of the top accounting and finance professionals from four regions and continents: Europe, the Middle East, India, and Southeast Asia. The series explored the many faces of bias and best practices for addressing this important issue.
2022 Student Case Competition
Students across Europe participated in the regional 2022 IMA Europe Student Case Competition to showcase their ability to think strategically and stretch their analytical skills to solve the business case, "Maximizing Customer Value at the Cage." Three finalist teams from Europe competed in the Pan Regional Finals in Athens, Greece, in April: University of Economics in Katowice (Poland); KIMEP University (Kazakhstan); and Vistula University (Poland). The winning team was University of Economics in Katowice (Poland), which will now compete in the global finals competition in Dubai, UAE, to face other regional winners in June.
Serving as jury members for the Europe competition were Alain Mulder; Bernardin Generalao, IMA director, regional partner relations; as well as volunteer leaders Brigitte de Graaff, CMA, CSCA, IMA Global Board member; and Odysseas Christodoulou, CEO of Globaltraining, one of our CMA approved course providers.
Congratulations to all the teams that competed!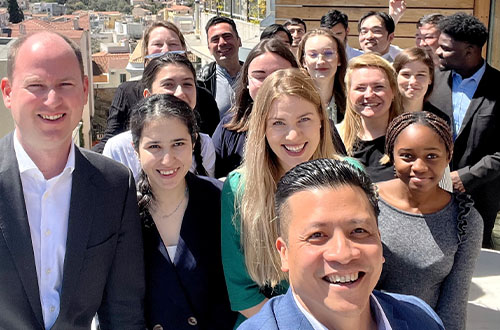 Team and jury members take a selfie!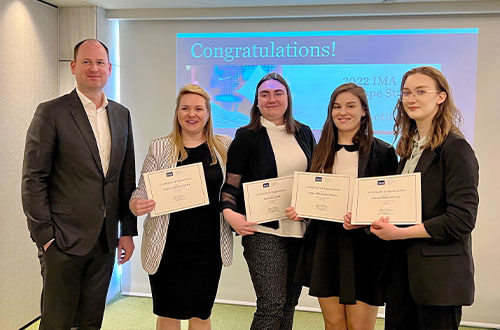 The winning team from University of Economics in Katowice
EAA in Norway
On 11-13 May, IMA was the main sponsor of the EAA (European Accounting Association) Annual Congress, held in person in Bergen, Norway. More than 1,200 academics in finance and accounting joined this informative and inspiring event.
In addition to its sponsorship role, IMA offered two symposia on the main stage, with IMA thought leaders Laurie Burney, Brigitte de Graaff, and the newly appointed IMA Europe Professor in Residence Mike Schulze, Vice Dean and Professor of Controlling, Accounting and Financial Management at CBS International Business School in Germany (see related story in this issue). The topics of these symposia were:
Accounting for Climate Change: Opportunities for Management Accounting

Approaching Sustainability through Accounting Education
IMA also sponsored a booth, where participants were able to drive in a Formula 1 simulator, an experience that proved a great conversation starter.
Pictured below (from l. to r.) are attendees/speakers: Laurie Burney, Baylor University; Carlos Larrinaga, University of Burgos; Mike Schulze, CBS International Business School; Lies Bouten, IESEG School of Management Lille-Paris; and Matias Laine, Tampere University.
IGC (International Group of Controlling)
The International Group of Controlling (IGC) - General Assembly took place in late May in Vienna.
This event is the opportunity to give senior industry professionals access to new ideas, solutions, and innovations to help take their departments and companies forward.
IMA senior leaders had the opportunity to present their European Project proposal on Controlling education.
Pictured below (from l. to r.) are participants/speakers Heimo Losbichler, University of Applied Sciences Upper Austria; Tomasz Zielinski, Akademia Controllingu; Frederic Doche, DFCG International; Lisa Beaudoin, senior director of business development, IMA; and Mladen Meter, Business Effectiveness Ltd.
Visit the IMA Europe website for information about upcoming events.