CMA Profile: Dr. Kerim Kazgan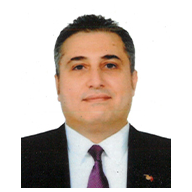 Alain Mulder, managing director, IMA Europe operations, recently sat down with Dr. Kerim Kazgan, CFO of Sanmar S.A. and president of IMA's Turkey Chapter, to discuss Kazgan's career journey, management accounting in Turkey, and some of the chapter's key accomplishments and goals.
Can you describe your journey to becoming a CMA® (Certified Management Accountant): When did you first hear about it, why did you decide to become certified, and what was your experience like taking the exam?

I've been a proud CMA for 28 years. I worked in the United States throughout the 1990s, and I passed the U.S. CPA exam in 1990. I found out about the CMA certification through colleagues, and I realized that it would add significant value to my CV. Back then, the exam was four parts, and it was taken with pencil and paper. I was exempt from Part 2 because of my CPA designation [Editor's note: The CMA exam is now two parts, and no exemptions are permitted]. I passed the CMA exam in one sitting in 1995.

How has being a CMA benefitted your career?

There's no doubt in my mind that the CMA certification added a lot to my credentials. I see the CMA designation as one of the best investments I made in my career. Young people need to realize that such international designations may not result in quick returns, but they definitely will help their career in the long run.

How did you first get involved in the IMA Turkey Chapter and what has it meant for your career?

I came back to Turkey in 1999, and I started teaching MBA classes at a local university while working as the CFO of a large construction company. A friend of mine approached me to start a semi-amateur venture to teach CMA courses. It was a hectic beginning with no resources, but I started teaching in 2005 and I'm still doing it. In 2006, we decided to establish the local chapter, and I became the president in 2010. Serving in this role for so many years has given me the opportunity to establish a great network of professionals in Turkey. It has definitely added value to my career from an image perspective and helped strengthen my CV.

How has the management accounting profession evolved in Turkey recently?

Management accounting in Turkey has been developing significantly over the last two decades. The profession was tax and audit-minded before, but now companies are very much aware of the importance of forward-looking management accountants. I see management accounting as the creative side of the profession that enables people to be more than casual reporting professionals. It is very important to assess the risks and analyze opportunities, exactly like the IMA's Management Accounting Competency Framework states.

What are some of the recent activities of the chapter that you are particularly proud of and what are some of your upcoming plans?

During the height of COVID-19, we had to cancel all activities. But thanks to IMA Europe's support, we were able to host one event in 2021 and one in fall 2022. They were very successful events with a significant number of attendants and guest speakers. As for the future, we are planning to establish relationships with prominent universities to raise awareness for IMA and the CMA certification. My dream is to have an IMA-sponsored MA in management accounting degree program to act like an exam preparation tool. Participants would earn an MA degree as well as get ready for the CMA exam.

For more information, please visit the IMA Turkey Chapter.