Change username form. Insert an info and press enter to submit, or press escape to close.
Create a new account form. Press escape to close.
Validate mail form. Press escape to close.
Lost password form. Insert an info and press enter to submit, or press escape to close.
Confirm address message dialog. Press escape to close.
To our IMA members in Europe:
I hope you are well and feeling optimistic, as I am, about the return to normalcy after such a difficult, challenging period for us all. I wanted to report to you on the economic outlook for our region and some promising developments at IMA® (Institute of Management Accountants) as we move into the fall of this year.
Latest GECS Results: Economic Recovery Gaining Momentum
Results from the Q1 2021 Global Economic Conditions Survey (GECS), the IMA and ACCA (Association of Chartered Certified Accountants) survey of more than 1,000 accountants and CFOs worldwide, show the status of the current economic situation through the eyes of finance professionals. Here are some of the conclusions:
The results show a much more positive picture compared to the prior quarter, with the biggest quarterly leap in confidence in the history of the GECS report. The approval and deployment of several effective vaccines has drastically improved the prospects for an end to the COVID-19 crisis.
The final order index, which is more stable than the confidence index, is consistent with the global economic recovery in the second half of 2021.
In contrast to the United States, however, the short-term outlook in the EU is less positive. This is primarily due to the relatively slow pace of the EU-wide vaccination program.
There are concerns about the role of inflation in the medium term due to emergency measures being implemented.
Check out my video presentation on these results on LinkedIn, where I also discuss key findings for the Western Europe region.

Outlook for Western Europe: Modest Economic Recovery, Inflation Concerns

Western Europe joined the improving economic picture in the Q1 2021 study, but to a more modest extent than other regions of the world. Despite the slow progress of vaccinations, orders are at their highest point in two years. This indicates that the economic recovery should be gaining momentum in the coming months.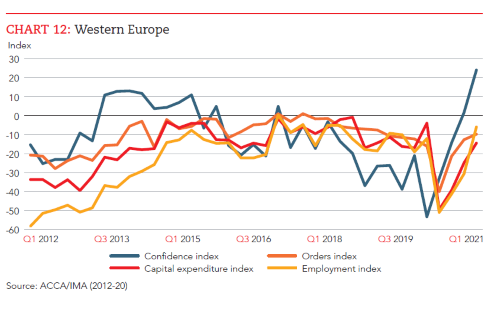 ACCA / IMA GECS Index Western Europe (2012-2021)
Once vaccination coverage is adequate, the Eurozone is expected to enjoy a stronger economic recovery. This will be supported by the €750 billion from the EU recovery fund to be distributed later in the year. National payment policies are likely to continue through wage subsidies. But many households are likely to view the savings accumulated during the pandemic as an increase in assets. This suggests that a small portion will be spent, which will limit the benefit of consumer spending. However, the revival of the economy will boost demand for exports and help the industry.

On the topic of inflation in the Eurozone, after inflation rates of around zero last year, rising costs are expected to bring general inflation rates back to 2% in many cases in the short term.
Of greater concern is the medium-term prospect of inflation. Central banks have taken many emergency measures to help economies during the pandemic by lowering interest rates and buying up government bonds. This has resulted in very strong money growth, with rates well above what would be consistent with real GDP growth and 2% inflation. Most central banks are committed to maintaining this easy monetary policy until an economic recovery is in place. This suggests that money growth will persist for some time, which could lead to more structural inflation growth.

Stay tuned for the Q2 2021 GECS report, due out shortly, to see how these trends are evolving.
Upcoming Live Events
I'm pleased to report that with rates of COVID infections falling, IMA Europe will begin hosting live events starting this fall. You can learn more about these events—in particular, our "Finance Transformation: Best Practices 2021 Conference," which we are hosting in various locations in the region—elsewhere in this newsletter. Of course, we will continue to monitor health and safety protocols and make adjustments to the schedule, if needed.
I look forward to seeing you all again in person someday very soon. Please stay strong and healthy.