Change username form. Insert an info and press enter to submit, or press escape to close.
Create a new account form. Press escape to close.
Validate mail form. Press escape to close.
Lost password form. Insert an info and press enter to submit, or press escape to close.
Confirm address message dialog. Press escape to close.
IMA Europe continued to host its popular Finance Transformation International Conference at two locations in Europe in November, both attended by IMA Global Board Chair Steve McNally, CMA, CPA, as a guest speaker. Additionally, earlier in the fall, IMA Europe participated in a national celebration of controllers.
Finance Transformation: Istanbul
On 9 November, IMA Europe hosted its in-person Finance Transformation International Conference in Istanbul. The event attracted a sell-out crowd of IMA® (Institute of Management Accountants) members and prospective members from Turkey and surrounding countries, enabling attendees to hear from leading practitioners, share experiences, and network with other professionals navigating the challenges of digital transformation in finance.
Featured speakers included:
Dr. Kerim Kazgan, CMA, president, IMA Turkey Chapter; CFO, Sanmar AS, who provided the welcome and introductions
Sehram Zayer, CMA, CFM, managing director, Merck Group, who discussed "Finance Transformation: From Gatekeeper to Strategic Business Partner"
Orhun Köstem, CFO, Sabanci Holding, who spoke about "Currency Risk Management in Turkey"
Steve McNally, CMA, CPA, Chair of IMA's Global Board of Directors and CFO, Plastic Technologies Inc., who presented on the topic of "Business Transformation – No Pain, No Gain"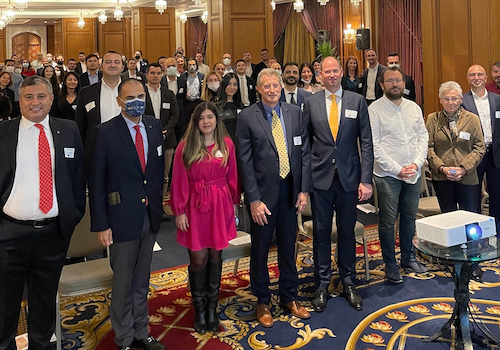 The conference in Istanbul.
Alain Mulder, senior director, IMA Europe operations, offered concluding remarks with a talk titled "The Future of Finance and Accounting – Disruptive Change in a Post-Pandemic World."
Finance Transformation: Frankfurt
On 18 November, IMA Europe welcomed attendees to the Finance Transformation International Conference in Frankfurt, held at the Le Meridien Frankfurt Hotel and co-sponsored by Workiva. The event attracted various attendees from across Europe.
The evening was introduced by Bernardin Generalao, director, regional partner relations, IMA. Featured speakers and their presentation titles included:
Sven Grandi, CFO, Bosch Service Solutions, "Controller of the Future: People Make the Difference"
René Linser, partner, Horváth, "E2E Business Transformation Based on SAP S/4HANA
Monika Zeiner, senior director, adidas; and Jozsef Szalma, CMA, senior manager, adidas, "Democratization of Data Analytics in Finance"
Steve McNally, CMA, CPA, IMA Global Board Chair and CFO, Plastic Technologies Inc., "Agile and Innovative: Building Your Career Success in the Digital Age"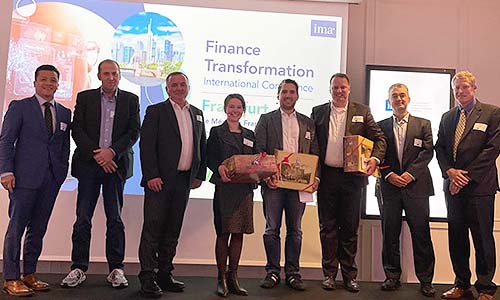 Speakers at the Frankfurt conference.
The event also included a panel discussion, moderated by Prof. Dr. Mike Schulze, vice dean and professor of controlling, accounting, and financial management, CBS International Business School. Panelists included Dr. Nadine Hoser, CMA, managing director, AL-KO Kober SE Group; Johannes Pötsch, CMA, head of segment controlling, Continental Automotive GmbH; and Conor O'Kelly, senior director statutory accounting, Workiva.
Finance Transformation: Future Events
Due to new COVID-19 restrictions, the schedule for upcoming Finance Transformation conferences is now planned as follows:
Amsterdam: Originally scheduled for 8 December, now rescheduled to spring 2022
Zurich: Early 2022
Moscow: Early 2022

Please watch your email for the latest details or visit Finance Transformation International Conference to learn more.

Nationale Controllersdag 2021

IMA was a Silver Partner of National Controllers Day, a special in-person gathering organized by VMN media on 7 October in Amersfoort, the Netherlands. Approximately 350 people attended this day-long event.

Participating as a keynote speaker was IMA Global Board Chair-Elect Gwen van Berne, CMA. Alain Mulder, senior director, IMA Europe operations, also led one of the breakout sessions. Other speakers included Igor Beuker, international speaker in the field of digital transformation, and Remco Claassen, an expert in the field of leadership.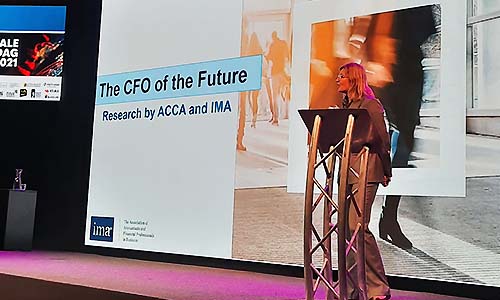 Gwen van Berne at the podium.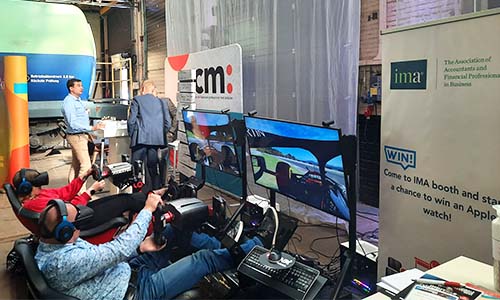 Some fun activities at the event.
Visit the IMA Europe website for information about upcoming events.