Change username form. Insert an info and press enter to submit, or press escape to close.
Create a new account form. Press escape to close.
Validate mail form. Press escape to close.
Lost password form. Insert an info and press enter to submit, or press escape to close.
Confirm address message dialog. Press escape to close.
To better support the careers of accounting and finance professionals in Europe, IMA® (Institute of Management Accountants) has formed a new business partnership with EMEA Recruitment. The company, founded in 2007, specializes in finance, BI and data, HR, procurement and supply chain, and operations recruitment at middle-management to executive levels across Switzerland, The Netherlands, and the wider EMEA and U.S. region.

The strategic relationship will give EMEA Recruitment candidates access to numerous IMA resources. These include continuing education courses (many of which are free), IMA's proprietary CareerDriver® career assessment and development tool, webinars, research and professional publications, and networking through IMA chapters and virtually. Together, the two organizations will hold joint business events to promote networking, IMA chapter events, professional development conferences, and information sessions about IMA's CMA® (Certified Management Accountant) certification program.

EMEA Recruitment candidates will also receive a free three-month trial membership with IMA.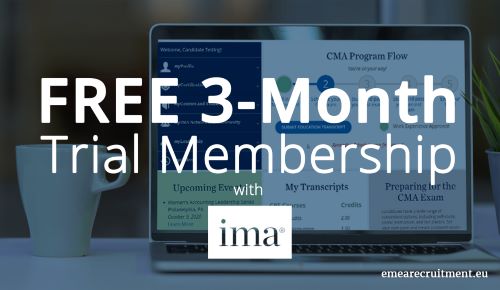 "A crucial element to furthering the management accounting profession is to support those who are looking to explore future career options and maximize their potential," said Alain Mulder, IMA senior director of European operations. "By working together with EMEA Recruitment, we're able to share valuable tools, information, and resources to a larger pool of professionals."

To help announce the new alliance, the IMA Europe office created a two-minute YouTube video. In addition, Mulder was featured as a guest speaker on an August 24 EMEA podcast to discuss the partnership. In it, Mulder discussed how global companies are contending with the current COVID-19 crisis and many of the new initiatives underway for IMA members. He also shared his thoughts about the need for finance professionals to upskill to benefit from the latest technologies, including those in the BI and data sector.

Noted Paul Toms, founder of EMEA Recruitment, "With this strategic alliance, businesses and individuals now have greater access to resources and services to help them adapt to a Digital Age and changes in the profession and prepare for future growth."

For more information, visit EMEA Recruitment.