Change username form. Insert an info and press enter to submit, or press escape to close.
Create a new account form. Press escape to close.
Validate mail form. Press escape to close.
Lost password form. Insert an info and press enter to submit, or press escape to close.
Confirm address message dialog. Press escape to close.
IMA® (Institute of Management Accountants), in conjunction with NBA (The Royal Netherlands Institute of Chartered Accountants), hosted its third annual Women's Accounting Leadership Series event in Amsterdam on March 5. More than 80 women and men gathered to discuss the role of women leaders in the business world, as well as obstacles women face and strategies for success. The event was held at the offices of NBA.
The event began with a welcome message from Rosemary Amato, former member of the IMA Global Board of Directors and member of the IMA Nominating Committee, and NBA Board Member Esther van der Vleuten RA.
The first speaker was Dr. Esther-Mirjam Sent, professor of economics and senator at Radboud University. Dr. Sent discussed the numerous biases and challenges surrounding gender diversity, issues she has explored in her research. She noted, "Women can benefit so much from supporting each other rather than competing. Quotas for female leaders are adding value and it's encouraging that many more countries are using this approach."
Next, several professionals from executive search agencies spoke on the topic of "Adding Value Beyond Your Organization." They discussed the factors they look for in a candidate and the importance of building a connection when seeking an executive role within a company.
Following a short dinner break, the event concluded with an interactive Q&A session with Agnes Koops-Aukes RA, a member of the executive board of directors of PwC Netherlands and chairman of PwC Accountants NV. During this session, participants asked many questions about how Koops-Aukes was able to land her dream job, what kinds of sacrifices she has made to achieve her success, and how she started her career.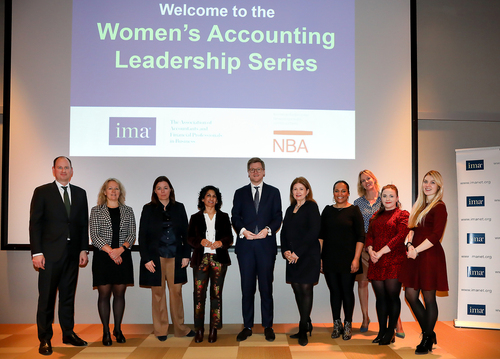 Speakers and IMA staff members at the event.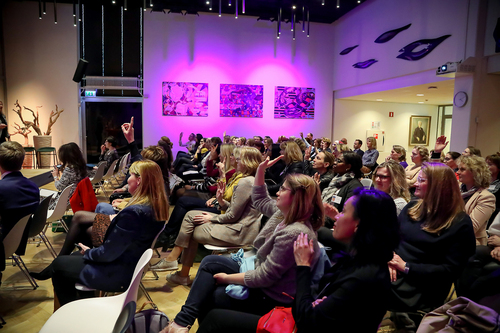 A packed audience listens attentively to the speakers.
"We were once again pleased to host another successful Women's Leadership Event," noted Alain Mulder, IMA senior director, Europe operations. "We had an impressive turnout of finance and accounting executives, who all engaged in an interactive dialogue. While we are disappointed that we had to make the difficult decision to postpone the Geneva Women's Leadership event that had been scheduled, we expect to be able to host similar events like this in the future, as they provide a valuable way for women and men to network and develop leadership skills."
For more information, visit Women's Accounting Leadership Series.