Change username form. Insert an info and press enter to submit, or press escape to close.
Create a new account form. Press escape to close.
Validate mail form. Press escape to close.
Lost password form. Insert an info and press enter to submit, or press escape to close.
Confirm address message dialog. Press escape to close.
For nearly 50 years, the CMA
®
(Certified Management Accountant) certification has been the benchmark for management accounting careers, certifying mastery of 12 core practice areas in the profession. University students in Europe can take advantage of sitting for the two-part CMA exam while still in school: through the
CMA Scholarship
, which enables high-performing students to study for and take the exam at no cost.
The CMA Scholarship program, first launched in 2012, has helped more than 7,600 students globally at 835 colleges and universities around the world. Through the program, IMA
®
(Institute of Management Accountants) to date has awarded more than US$12 million worth of scholarships.
Recipients of the CMA Scholarship in Europe receive a comprehensive package of benefits, including:
IMA membership for up to three years while pursuing completion of the CMA exam
Entrance fee to the CMA program
Exam Support Package – an assessment tool that can help assess the content covered on the CMA exam
Registration fees for the first attempt at both parts of the CMA exam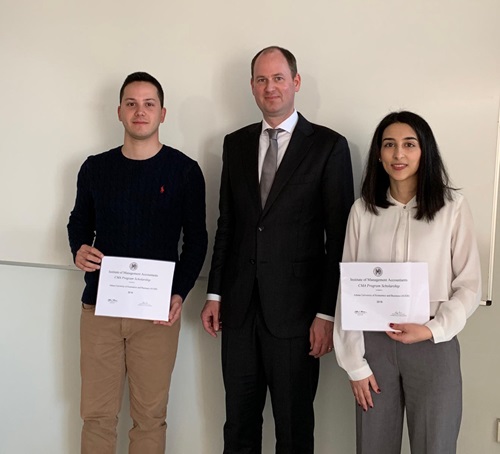 Alain Mulder, center, presents CMA Scholarship awards to two students from Athens University of
Economics and Business, which is currently being considered for endorsement under IMA's Higher
Education Endorsement Program.
The CMA Scholarship is activated at the time a nominee joins IMA and registers for the CMA program. The scholarship recipient has up to three years to successfully complete both parts of the CMA exam.
Faculty members can nominate up to 10 students per university per academic year. Students must be currently enrolled full-time in a bachelor's or master's program to be nominated. Note that
students cannot self-nominate
; however, they can express interest in being nominated to their professor or advisor, who can in turn submit the required paperwork.
"Achieving the CMA designation demonstrates professional expertise financial planning, analysis, control, decision support, and professional ethics – essential skills sought after by successful organizations and their financial team leaders. Offering this scholarship is part of IMA's commitment to supporting the education of future leaders of the profession," said Alain Mulder, IMA director of European operations.
CMA Scholarship nomination forms are accepted throughout the academic year (September – June). More information about the program, and a downloadable nomination form, can also be found on the IMA website at
https://www.imanet.org/cma-certification/cma-scholarship
. Completed nomination forms should be submitted via email to:
amulder@imanet.org
.