Change username form. Insert an info and press enter to submit, or press escape to close.
Create a new account form. Press escape to close.
Validate mail form. Press escape to close.
Lost password form. Insert an info and press enter to submit, or press escape to close.
Confirm address message dialog. Press escape to close.
Approximately 110 women and men from across Europe gathered on 7 March, the day before International Women's Day, to attend the Women's Accounting Leadership Series at Vrije University in Amsterdam. This was the second consecutive year that this event was held in Amsterdam, and it continues to grow in popularity.
The half-day event, the 10
th
offering of this series, was hosted by IMA
®
(Institute of Management Accountants) and NBA (Koninklijke Nederlandse Beroepsorganisatie van Accountants – The Royal Netherlands Institute of Chartered Accountants). It provided a forum for professionals working in accounting and finance to exchange ideas on leadership development and strategies for success.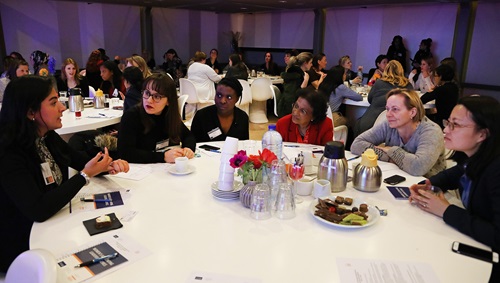 Attendees from a variety of backgrounds exchanged ideas and made new connections.
Alain Mulder, IMA director of European operations, and Harm Mannak, director of NBA, offered introductory remarks to all attendees.
Leading off the event was Marianne Zwagerman, a writer, columnist, and media entrepreneur, who spoke about how to "Navigate Your Career with Confidence."
She shared some advice: "Real decisions are never made in official meetings," she said, comparing the decision-making process to the Alcatraz prison break: "The decision to escape was not made inside prison walls, but out in the recreation yard." She encouraged women to "hang out" in unofficial places.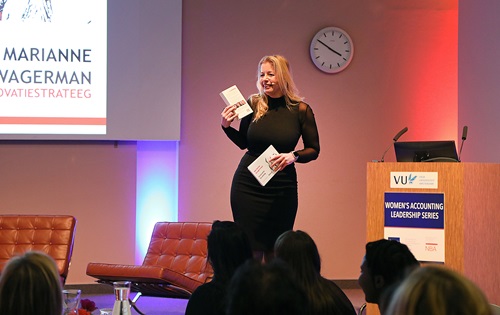 Marianne Zwagerman discussed how to cultivate career confidence.
In the next session, "Creating Diverse and Inclusive Workplaces," Marieke van den Brink, Ph.D., professor of gender and diversity, discussed how to identify and manage D&I programs that spark what she called "meaningful transformation."
Finally, a panel titled "Breakthrough Performance: Leaders and the Bottom Line" featured Fatema El-Wakeel, CMA, finance business partner-data analytics at Jaguar Land Rover; Terence Guiamo, head of diversity and inclusion at PwC; and Annemieke Roest, group controller, ABM AMRO N.V. They fielded a variety of audience questions and shared stories of their own leadership journeys.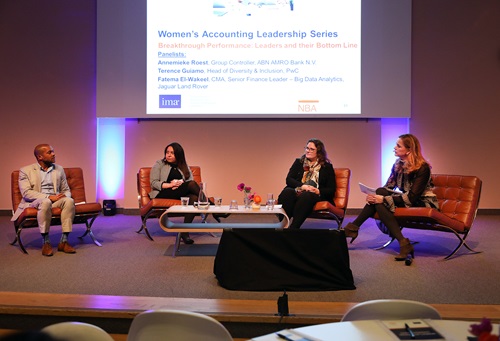 Panelists (from l. to r.): Terence Guiamo; Fatema El-Wakeel; Annemieke Roest; and moderator
Anouschka Laheij
Lisa Beaudoin, CMA, CSCA, CAE, IMA director of business development, said, "We appreciate the speakers who shared their inspiring stories and insights, as well as thank the participants who took time to attend this event. We believe that everyone came away with useful tools for how to better manage professional challenges, achieve better work/life balance, and cultivate executive skills. We also hope that attendees made some valuable networking connections."
The next Women's Accounting Leadership Series event will be held in New York City on 3 May. Visit
www.imanet.org/womensleadership
to learn more. Stay tuned for future information about another event in Europe in 2020!