Change username form. Insert an info and press enter to submit, or press escape to close.
Create a new account form. Press escape to close.
Validate mail form. Press escape to close.
Lost password form. Insert an info and press enter to submit, or press escape to close.
Confirm address message dialog. Press escape to close.
Management Accounting Conference in Zug

IMA® (Institute of Management Accountants) Global Board Chair Christian Cuzick, CMA, was the featured speaker at the Management Accounting Conference, held at the offices of Johnson & Johnson in Zug, Switzerland, on October 21, 2019. Cuzick is vice president of Johnson & Johnson's Vision division, based in Santa Ana, Calif., and he spoke on the topic of "Best Practices in Innovation in Finance for Growth and Value Creation."

Conference attendees included accounting and finance professionals from the pharma, banking, and technology sectors from the greater Zurich area. They gathered to hear Cuzick's remarks, which began with a quote from management guru Peter Drucker: "Within five years, if you're in the same business you are in now, you're going to be out of business." Cuzick discussed the changing demands in the management accounting and finance profession, noting that "we must not be afraid of the change from technology, but we need to embrace it and be stronger because of it."

To pivot from the traditional finance and accounting training, Cuzick (pictured below) observed, "will take a more agile and nimble approach that keeps pace with technology and the new business environment." New skills will be required for finance and management accounting professionals, such as being an analytics translator. In this role, Cuzick noted, "the finance professional reframes the business problem into a data problem, working with data architects, engineers, and scientists to choose the right data sets, ensure that outliers are addressed, and testing the validity of the algorithms, making changes and updates to correct for errors."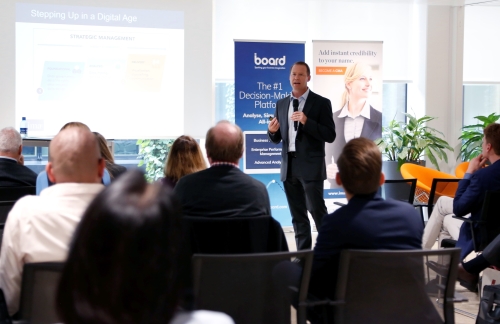 Other presenters at the conference included Andrea Ostinelli, senior finance director and member of the Switzerland Leadership Team at Johnson & Johnson, who spoke about the company's presence in Switzerland. In addition, Fatema El-Wakeel, CMA, IMA Global Board member and data analytics business partner at Jaguar Land Rover, discussed "One Small Step for Analytics, A Giant Leap for Finance: Moon Landing Lessons Applied to Finance Analytics." Other presenters: Anton Golub, CEO and founder of Flovtec; Tomi Kalin, business intelligence and corporate performance management consultant at Board International; and a panel discussion featuring Hessel Brower, CMA, from Datwyler; Pascal Peter, CMA, CIA, from RÖFIX AG; El-Wakeel; and Kalin.
Pictured below (from l. to r.): Bernardin Generalao; Ashley Gibson, CMA, CSCA, CPA, Risk & Financial Advisory Manager at Deloitte; Christian Cuzick; Andrea Ostinelli; Fatema El Wakeel; LeighAnn Tobia, Conference & Events Senior Manager at IMA; and Grete Buivydaite, Business Development Specialist at IMA.
Women's Accounting Leadership Series in Munich
On October 23, IMA hosted its popular Women's Accounting Leadership Series for the first time in Munich.
During this half-day event, men and women gathered to gain perspectives from accomplished female leaders on work/life balance, overcoming challenges, meaningful career paths, and more. IMA Board member Ashley Gibson moderated the event, which included panelists Rosemary Amato, CMA, CPA, CISA, global data management head of demand management, ING Bank; Doreen Remmen, CMA, CSCA, CAE, IMA senior vice president and CFO; Pat Stefanczyk, CAE, IMA vice president of governance and volunteer relations; Dr. Marie-Claire Tietz, director, global inclusion and diversity, KPMG AG WPG; and Joanne Hunger, director, Central Europe and Ireland, Western Union Business Solutions.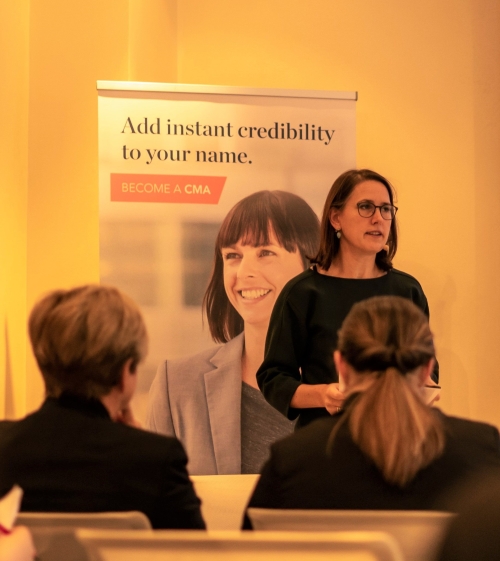 Dr. Marie-Claire Tietze shares her insights.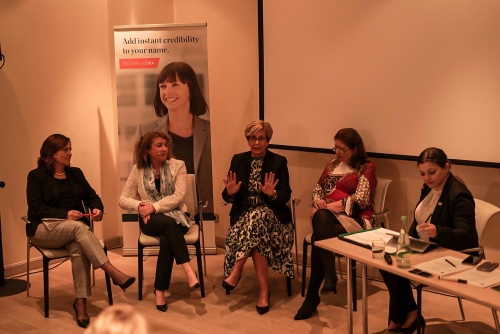 (l. to r.): Pat Stefanczyk; Joanne Hunger; Doreen Remmen; Rosemary Amato; and Ashley Gibson.
Two additional Women's Accounting Leadership Series events are planned for Spring 2020: Amsterdam, for the third consecutive year, on March 5, and for the first time, Geneva, on March 11. Please watch upcoming newsletters and your email for registration details.

ISAR Meeting in Geneva
In an opportunity organized by the Switzerland Chapter, Raef Lawson, Ph.D., CMA, CPA, CFA, CAE, IMA vice president of research and policy, attended the 36th session of the Intergovernmental Working Group of Experts on Accounting and Reporting (ISAR). ISAR, established in 1982, is the United Nations' focal point on accounting and corporate governance matters.
Also attending the session on behalf of IMA was Purnima Mishra, Switzerland Chapter board member and vice president of strategy and communications, and who serves as manager, accounting and audit, for The Global Fund to Fight AIDS, Tuberculosis, and Malaria.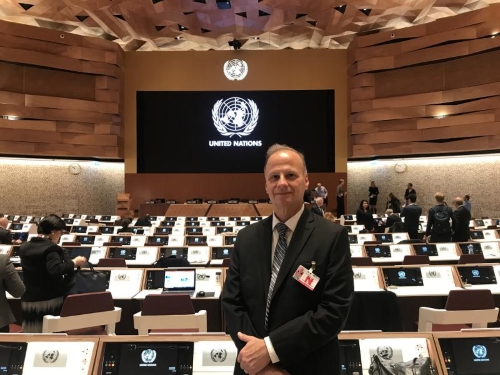 Lawson at the ISAR meeting.
The meeting took place in Geneva at the end of October and featured a discussion on recent trends and challenges in the area of financial and nonfinancial reporting in the context of sustainable development goals. The meeting included the presentation of numerous case studies on the topic of sustainability and a review of current developments in International Financial Reporting Standards.
More information about the meeting and ISAR can be found at: https://isar.unctad.org/isar-36-programme/.