Change username form. Insert an info and press enter to submit, or press escape to close.
Create a new account form. Press escape to close.
Validate mail form. Press escape to close.
Lost password form. Insert an info and press enter to submit, or press escape to close.
Confirm address message dialog. Press escape to close.
IMA's activities in Europe are expanding: Just last week, IMA® (Institute of Management Accountants) announced the formation of a new chapter in Vienna, serving management accounting professionals in the city and surrounding area.

The group will be known as IMA's Vienna Chapter and meet regularly to discuss professional development and issues in the profession impacting Austria, Europe, and the global accounting community. All members are either CMAs or aspiring to earn their CMA® (Certified Management Accountant) certification.

The purpose of the chapter will be to serve all accounting and finance professionals in Austria, including university students, new graduates, young professionals, and seasoned professionals. The chapter will organize networking opportunities, professional development events, and training sessions, while also participating in local and global conferences and events. The chapter will also aid aspiring CMAs in earning their certifications.

"Our chapters are the lifeblood of IMA. We are happy to welcome the professionals in Vienna to our newest chapter and look forward to all the great work they will be doing locally and globally," said Alain Mulder, IMA senior director of European operations.

The Vienna Chapter will be led by Ivailo Sokolov, CMA, Data Office Division Co-Lead at BAWAG P.S.K., with Christine Bischoff, Dominik Millner, CMA, and Alejandro Verdin, CMA, supporting him as vice president, secretary, and treasurer, respectively.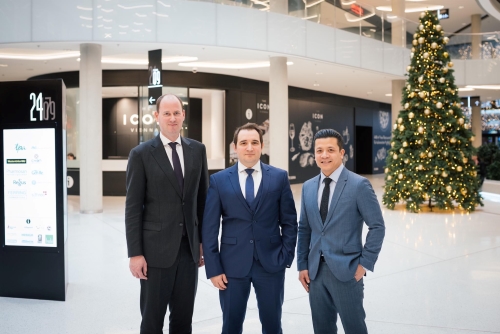 Pictured above (from l. to r.): Alain Mulder; Ivailo Sokolov; and Bernardin Generalao.
For more information on the Vienna Chapter, please contact Bernardin Generalao, IMA manager of business development in Europe, at +41 44 208 31 60 or at bernardin.generalao@imanet.org.