Change username form. Insert an info and press enter to submit, or press escape to close.
Create a new account form. Press escape to close.
Validate mail form. Press escape to close.
Lost password form. Insert an info and press enter to submit, or press escape to close.
Confirm address message dialog. Press escape to close.
On 22 November 2018, IMA
®
(Institute of Management Accountants) and this year's Corporate Recognition Event winner, leading telecom provider KPN, opened the Stock Exchange in Amsterdam. IMA awards the corporate recognition prize annually to an organization that excels in finance and accountancy. In 2018 the focus was on innovation. More than 100 attendees participated in IMA's 2018 Corporate Recognition Event on 8 November, during which KPN won the award for its "Control [
Besturing
] 2.0." This new management control system provides access to financial and nonfinancial information in a 'digital business cockpit,' allowing for better control of an organization and a view on not just the past but also the future. Thanks to Control 2.0, an organization's board of directors has access to data about the outside world, the status of internal strategic projects, financial KPIs, and company forecasts through interactive dashboards.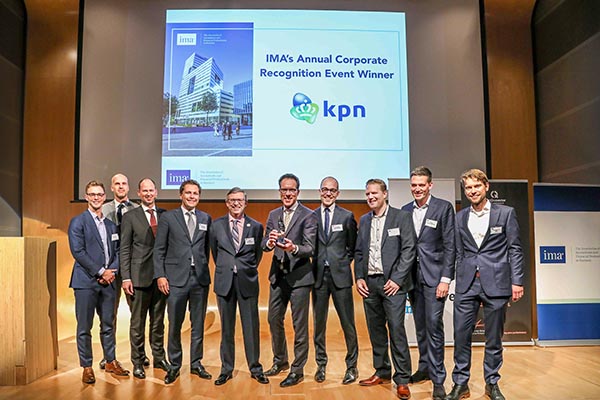 Executives from KPN receive the company's 2018 Corporate Recognition Award from IMA.
The event featured a joint presentation by Murat Tarakci, associate professor of innovation management at the Rotterdam School of Management, Erasmus University; and Marc Morgenland, business manager at ConQuaestor, who discussed business controllers' role in fostering disruptive innovations. Thanks to everyone who joined us this year! We look forward to seeing you all again next year at our 2019 Corporate Recognition Event.
Read more:
https://www.telegraaf.nl/financieel/2828475/beursverslag-unilever-vooraan-op-lager-damrak
Watch:
https://www.youtube.com/watch?v=8xrMh-bu0Tc