Change username form. Insert an info and press enter to submit, or press escape to close.
Create a new account form. Press escape to close.
Validate mail form. Press escape to close.
Lost password form. Insert an info and press enter to submit, or press escape to close.
Confirm address message dialog. Press escape to close.
IMA Endorsed School: George Mason University
Thanks to the exceptional vision, enthusiasm, and dedication of its accounting faculty, George Mason University (GMU) has successfully joined IMA's Higher Education Endorsement Program. This program recognizes institutions of higher learning that uphold the highest standards of accounting education and validates that the school prepares its students for success in the CMA® (Certified Management Accountant) exams.
The journey towards endorsement at GMU, a public research university in Fairfax County, Va., began several years ago. When Associate Professor of Accounting Long Chen, Ph.D., became GMU's Accounting Area Chair in 2022, she decided to make endorsement one of the area's priorities.
"After assessing the content of the CMA exam, we recognized the potential benefits our students could gain by participating in the IMA endorsement program. The challenge then was to coordinate the application effort and motivate the accounting and finance areas to actively participate," shared Chen. She emphasized the significance of the program for students, aiming to broaden their understanding of career options beyond public accounting.
To achieve this goal, Chen enlisted the help of Peggy Tsirigotis, Area Program Coordinator and Accounting Instructor, who reached out to the professors and instructors involved in the relevant curriculum to ensure its alignment with the endorsement requirements. Through the concerted efforts of everyone involved, GMU successfully earned endorsement within a fairly short period of time.
To celebrate the endorsement achievement, GMU's Accounting Area hosted a school-wide event on February 16, 2023. The event featured the presentation of the university's endorsement plaque by IMA Senior Director of Business Development Lisa Beaudoin, CMA, CSCA, CAE. More than 100 students and 20 faculty members attended the ceremony. Among the speakers were Dean Ajay Vinzé of the GMU School of Business, Chen, Tsirigotis, leaders from Beta Alpha Psi, and Beaudoin, who also delivered a talk during an accounting class afterwards.
Pictured below (from left to right) are Peggy Tsirigotis, Long Chen, Lisa Beaudoin, and JK Aier (Senior Associate Dean for Academic Affairs and Global Engagement).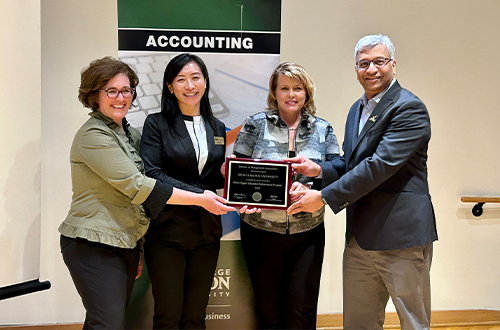 "It was a momentous occasion that brought together the entire accounting area and business school, serving as a celebration of our collective accomplishment," said Chen. "The speakers acknowledged the contributions of all those who played a role in obtaining the endorsement, while also placing it within a broader context."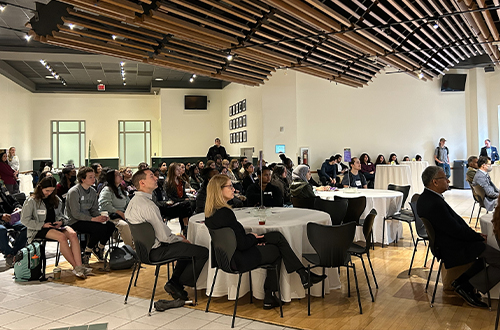 A well-attended event.

With the endorsement now in place, Chen anticipates that GMU will be able to attract more students to the university, which boasts the distinction of being the most diverse public university in Virginia, with students coming from 130 countries. "Being the first school in Virginia to earn the IMA endorsement is undoubtedly a significant advantage. It strengthens our accounting programs and enables our faculty to engage students more effectively in discussions about the wide range of career opportunities available to them," Chen said.
Moving forward, GMU plans to establish an IMA Student Chapter and actively participate in IMA's award and scholarship programs. Additionally, students may have the opportunity to attend the IMA Student Leadership Conference in Detroit this coming fall.
For more information, please visit IMA's Higher Education Endorsement Program and Accounting Area at George Mason University.