Change username form. Insert an info and press enter to submit, or press escape to close.
Create a new account form. Press escape to close.
Validate mail form. Press escape to close.
Lost password form. Insert an info and press enter to submit, or press escape to close.
Confirm address message dialog. Press escape to close.
Student Ambassador Profile: Cheyenne Strait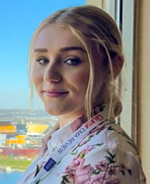 Being a fully remote student has its own unique challenges: less direct interaction with your peers and more of a disconnect with what's happening on campus. But being a remote student hasn't stopped Cheyenne Strait from being an effective, and inspiring, IMA Student Ambassador.

Cheyenne is currently a junior at Maryville University, where she is a finance major. She recently was accepted into the school's accelerated dual-degree program, so that she will earn both her bachelor's degree and her MBA by the end of 2025.

Cheyenne learned about the IMA Student Ambassador program through her school's finance club. The club leaders mentioned the opportunity and after doing her own research, Cheyenne was impressed. "IMA is an organization I'm proud to be a part of. I'm always looking for the chance to tell students about the option of management accounting as a career path and the benefits of being an IMA member, like the networking, access to courses and webinars, and the chance to be connected to a global organization."
Cheyenne has been an IMA Student Ambassador for about a year now, and one of the highlights for her so far was attending the IMA Student Leadership Conference (SLC) in Pittsburgh last November. The conference was held less than three hours from her home, which made attending a no-brainer.
"It was an incredible experience, and I had such a great time," she said. "I especially enjoyed the roundtables, where I got to meet students from other universities and talk to finance professors from across the country." Cheyenne is currently making plans to attend the 2023 SLC in Detroit this coming November.
Inspired by her experience in Pittsburgh, Cheyenne was happy to continue spreading the word about IMA, especially on her social media platforms. She also has spoken on student panels to talk about the benefits of IMA membership.
Being involved as an IMA Student Ambassador has helped Cheyenne's own career path as well. She's currently working at an internship at Martin's Famous Pastry Shoppe, a family owned and operated bakery company in Chambersburg, Pa., and maker of Martin's potato rolls and bread.
"I asked the woman who hired me what made me stand out. She told me that she was part of IMA herself and she was very glad that I was involved in the organization and had taken on this leadership role. It definitely was one of the reasons why I got this opportunity."
IMA's Student Ambassador Program offers a variety of benefits, including an opportunity to gain valuable leadership and entrepreneurial experience, the chance to collaborate with professors and other accounting/finance students, and free IMA membership. To learn more and to apply to become an IMA Student Ambassador, visit the Student Ambassador Program page on IMA's website.