Change username form. Insert an info and press enter to submit, or press escape to close.
Create a new account form. Press escape to close.
Validate mail form. Press escape to close.
Lost password form. Insert an info and press enter to submit, or press escape to close.
Confirm address message dialog. Press escape to close.
Get Ready for IMAs Student Case Competition Registration Opens in December
It's nearly time to register for IMA's global Student Case Competition. The competition invites groups of college/university students to think strategically and stretch their analytical skills to solve a business case. Registration will open in December 2022 for the 2023 competition.
The competition, sponsored by Gleim, will feature six regional competitions. Students will work in teams of three to five at their respective college/university, submitting their solution to the case in a PowerPoint presentation. The top four teams from the U.S. competition will convene on Sunday, June 11, 2023, during IMA's Accounting & Finance Conference in Minneapolis, where they will present their case before a live audience. The winning team will win a $4,000 cash prize; the other teams will each receive a $2,000 cash prize.
Visit the IMA website to see complete details about rules, terms, and conditions for the competition.
A team from The University of Scranton was among the four finalist teams for the 2022 competition. Serving as their faculty advisor was Ashley Stampone, CPA, assistant professor at the university.
Stampone has worked with students for several years on the competition (and this was the first time a Scranton team made it to the "Final Four," a tremendous accomplishment). Many of the students who participate in the IMA Student Case Competition also participate in the PwC Case Challenge, which gives them exposure to the case competition format. Yet, Stampone explains, "It's a similar competition, but it's not nearly as complex. The IMA competition requires advanced business knowledge and analytical skills."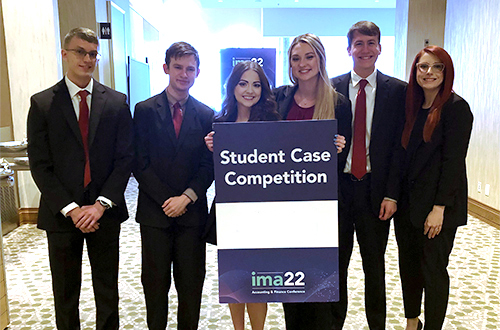 The 2022 team included five high-achieving students, all members of multiple honors programs: Russell Young; Andrew Faulkner; Marissa Angelo; Claudia Pitts; and Matthew Earley (pictured above, from l. to r.). They devoted many hours to developing their PowerPoint and once selected for the finals, their in-person presentation. "The competition is valuable on so many levels," says Stampone. "It helps students utilize and hone their critical thinking skills. It also teaches students about teamwork and, at the finals level, their presentation and communication skills."
Indeed, competing in the in-person finals was a highlight for the students, where they had the opportunity to attend IMA's Accounting & Finance Conference in Austin, meet practitioners from around the world, and expand their professional network.
"Participating in the competition is such a great resume booster," says Stampone. "It gives the students something to talk about during job interviews and provides a very tangible example of their leadership, technical, and analytical skills."
Stampone is making plans to promote the event to her students to participate in the 2023 competition. "The excitement is already building again. The 2022 team posted many photos from Austin and now that we're back on campus, I've had many students ask me about when and how they can participate this year. They want to make it to the finals, too – and go to Minneapolis to enjoy the same kind of amazing experience."
For more information, please visit IMA Student Case Competition on the IMA website.