Change username form. Insert an info and press enter to submit, or press escape to close.
Create a new account form. Press escape to close.
Validate mail form. Press escape to close.
Lost password form. Insert an info and press enter to submit, or press escape to close.
Confirm address message dialog. Press escape to close.
IMA® (Institute of Management Accountants) offers a great way for students to be recognized for their academic achievements: membership in the IMA Accounting Honor Society (IAHS).
IAHS membership is available to students who meet the following eligibility criteria:
Attend an accredited U.S. college or university
Be a declared Accounting, Finance, or IT major
Have taken a minimum of three accounting courses (can include the principles course)
Be enrolled in junior year or later in an undergraduate program, or in a graduate or Ph.D. program
Have a minimum overall and Accounting GPA of 3.0
Provide a transcript as proof of eligibility
Pay a one-time fee of $50 for lifetime membership
Students can be nominated by a professor or can self-nominate by providing proof of meeting eligibility requirements in order to be accepted into IAHS. As an IAHS member, students receive:
One year of free IMA membership (valued at $39)
A Certificate of Achievement and digital badge
A digital newsletter featuring leadership and career advice
A graduation cord that recognizes them as a distinguished accounting scholar
For professors, IAHS membership is a great way to give their top students recognition that can help them as they enter the job market.

Allison Althouse, CMA, accounting instructor at Alvernia University in Reading, Pa., takes a very proactive approach to nominating students. As soon as her students have completed or are near completing their third accounting class, she identifies those who have 3.0 GPAs or above. Once they have met the eligibility requirements, she submits their names to IAHS.

"I tell them, 'Look for your email about being nominated for IMA's accounting honor society. And say yes to becoming a member!'" she says. She notes that students should feel proud of their accomplishment and be honored to wear their graduation cord, which "tells everyone you're recognized within your major because of your GPA."
Alvernia University students and IAHS members Jessica Plunkett [l.] and Reagan Dowdell [r.] wearing their graduation cords.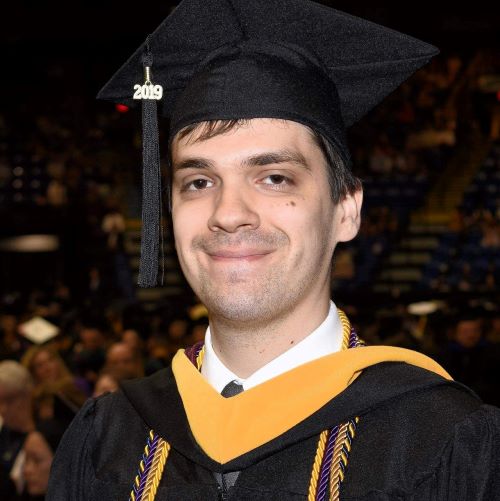 Alvernia student Jeremy Stalter wearing his graduation cord.
Students are, of course, advised to showcase their IAHS membership on their résumés and when looking for a job. "It's a great way to differentiate yourself and validate your academic achievement," Althouse notes.
Althouse has been nominating students for IAHS membership since 2017. She is pleased that Alvernia now offers a degree in Computer Science, one of the three majors eligible for IAHS membership, increasing the pool of eligible students. Her campus is also gaining more awareness about IMA and recently started a student chapter.
For more information about the IMA Accounting Honor Society, visit www.IAHS.org or contact IAHS Member Services at (800) 638-4427 or at iahs@imanet.org.