Change username form. Insert an info and press enter to submit, or press escape to close.
Create a new account form. Press escape to close.
Validate mail form. Press escape to close.
Lost password form. Insert an info and press enter to submit, or press escape to close.
Confirm address message dialog. Press escape to close.
More than 600 attendees embraced their future at IMA's Student Leadership Conference (SLC), held in Charlotte, N.C., November 14-16. Attendees hailed from over 30 states and several countries, and they represented more than 100 schools. The conference provided a great opportunity for students and faculty to connect with new contacts, gain valuable insights from inspiring speakers, and ignite their enthusiasm for their future careers.
Keynote presentations included "Being All in All of the Time," "The HealthSouth Fraud: A Case of Ethical Malpractice," and "Transforming the Finance Function with Robotic Process Automation." Students were also inspired by sessions about making the journey from student to C-Suite professional and understanding global business trends.
Concurrent sessions focused on learning about Industry 4.0, financial planning and analysis, servant leadership, and preparing for the CMA® (Certified Management Accountant) exam. Other well-attended sessions covered "hot topics" such as ethics, diversity and inclusion, and forensic accounting. Select students also had the opportunity to interview on-site for positions with Cummins Inc.
In a special twist, this year's conference was honored by the attendance of a representative from the Mayor's Office of the City of Charlotte, who delivered brief remarks and proclaimed November 15 as "IMA Day" in Charlotte.
From l. to r.: John Howell delivers an inspiring presentation to a packed house; Students exchange ideas at Career Roundtables.
Before the conference officially began, attendees had the opportunity to learn more about accounting and finance in action by choosing one of three optional industry tours at nearby organizations: Bank of America; the Charlotte Knights (the Triple A affiliate of the Chicago White Sox); and Duke Energy.
Always a highlight for attendees, this year's fun networking event was held at Bowlero, where students had the chance to unwind, bowl, and socialize. Bowlero also hosted the finals of the annual t-shirt design contest, now in its 8th year and which this year attracted a record number of entries. Top honors this year went to Athens State University and the University of Texas at El Paso, which won bragging rights and took home a $500 prize. See a photo of the winning teams below.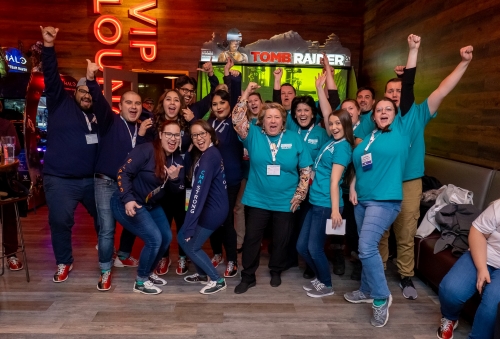 Winning teams of this year's t-shirt design contest.
"We extend our thanks to everyone who helped make this year's SLC another engaging, informative experience for students and faculty alike," said Jodi Ryan, CAE, IMA director of student engagement. "We are especially grateful to our wonderful group of presenters, who delivered interesting and educational sessions that truly inspired our attendees. We're also grateful for the generous support of our sponsors and exhibitors, as well as the Stuart Cameron McLeod Society and IMA members, who financially supported the event. We hope that attendees enjoyed the conference and made valuable new connections."
Select handouts from conference sessions can be found at www.imastudentconference.org. You can also see more highlights and photos by visiting #IMASLC19 on IMA's Facebook and Twitter pages.
Watch future issues of Campus Connection for information about next year's Student Leadership Conference, which will be held in Pittsburgh, Pa., on November 12-14, 2020.