Change username form. Insert an info and press enter to submit, or press escape to close.
Create a new account form. Press escape to close.
Validate mail form. Press escape to close.
Lost password form. Insert an info and press enter to submit, or press escape to close.
Confirm address message dialog. Press escape to close.
IMA
®
(Institute of Management Accountants) recognized the accomplishments of outstanding students, academics, and student chapters at this year's Annual Conference & Expo, held in Indianapolis earlier this summer.
In the academic category, this year's winners were:
Donna L. DeMilia, Ph.D., CMA, CPA, Grand Canyon University, won the Ursel K. Albers IMA Academic Mentor of the Year Award, which honors an academic mentor or student chapter advisor who has made significant contributions to IMA overall and IMA student members in particular.
Laurie Burney, Ph.D., CMA, CSCA, CPA, Baylor University, won the R. Lee Brummet Award for Educators, which recognizes distinguished academicians in the area of management accounting, particularly those with a record of scholarship in the field, service to IMA, and the promotion of management accounting as a profession.
Moh'd RuJoub, Ph.D., Eastern Connecticut State University, won the IMA Faculty Leadership Award, given to a faculty member who has demonstrated significant leadership activities at the national, regional, and/or local levels of IMA.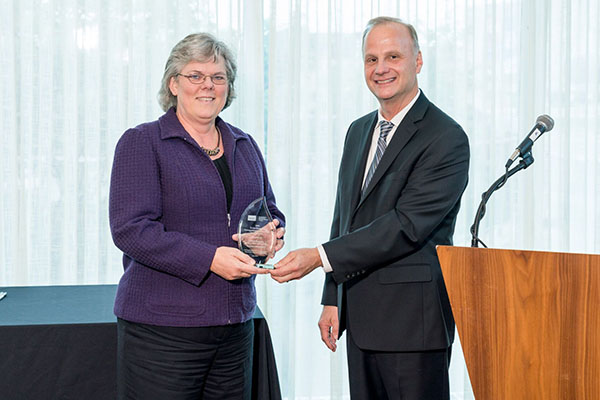 Burney receives the R. Lee Brummet Award for Educators from Dr. Raef Lawson.
In the student category, this year's winners were:
Nayeli Govantes Alcantar, University of Wisconsin-Whitewater, author of "My Time in IMA," and Claudia Xiong, California State University, Freso, author of "How IMA Has Inspired Me," both won the Student Manuscript Award.
Luke Harris, Missouri State University, was awarded this year's Stuart Cameron and Margaret McLeod Memorial (SCMS) Scholarship in recognition of his outstanding academic achievement and contributions to IMA. This scholarship award is in the amount of $5,000.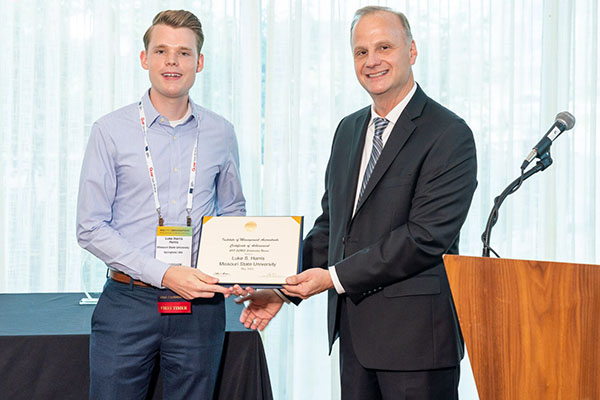 Harris [on left] was awarded this year's SCMS Scholarship.
In addition, the following students were awarded IMA Memorial Education Fund (MEF) Scholarships in acknowledgement of their academic merit and IMA service: Shivam Arora (University of Texas at Arlington), D'angelo Bragg (Michigan State University), Randawnique Coakley (Saint Leo University), Aidan Dunleavy (George Fox University), Aubree Matheson (Utah State University), and Kelly Schillaci (New Jersey City University). Awards for these scholarships ranged from $1,000 to $2,500.

IMA student chapters honored this year were:
The following schools were selected as Outstanding Student Chapters in the Award of Excellence Competition, which recognizes the top student chapters that promote IMA's mission and vision statements as well as provides a broad spectrum of activities and services to their student members:

Ashland University
Athens State University
Brigham Young University
Culver-Stockton College
Fresno State University

Chapters at the following schools won an IMA Certificate of Excellence:


Gold:

Grand Canyon University
University of Hawaii at Manoa
University of Southern Indiana
University of Wisconsin-Whitewater
Utah State University
Valdosta State University

Silver:

Stark State College
University at Buffalo
University of Louisiana Lafayette

Bronze:

Michigan State University
Missouri State University

Teams of students from Texas State University; University of Nevada, Las Vegas (two teams); and Wright State University were selected to participate in the finals of this year's Student Case Competition, held during the Annual Conference & Expo. Each of the top four teams received $3,000. The winning team, from the University of Nevada, Las Vegas, was awarded an additional $2,000.
The IMA student chapter at Brigham Young University won the Clark Johnson Achievement Award for the second consecutive year, in recognition of its innovative achievement in meeting the needs of IMA regular and student members. The award winner receives $5,000.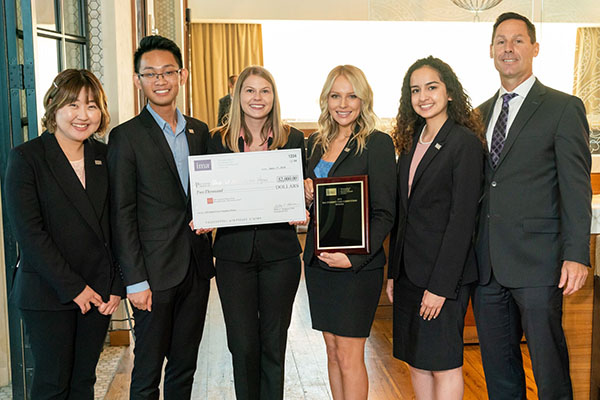 Winners of the Student Case Competition from the University of Nevada, Las Vegas:
[from l. to r.] Esther Lee; Simon Zhu; Ashley Brinkmeyer; Savannah Schmidt; Jesika Hererra; and Faculty Advisor Daniel Siciliano.
Students are reminded that the first deadline (October 31) for the IMA Student Chapter Award of Excellence and Outstanding Student Chapter is approaching soon. More information and the application are available here.

In addition, students can find the case for the 2019 Student Case Competition, "Angie's Empanadas: Pricing Decisions for a Start-Up," in the August 2018 issue of Strategic Finance.

Please visit IMA's website for more information (including application forms and deadlines) related to awards for students and student chapters and for educators.