Change username form. Insert an info and press enter to submit, or press escape to close.
Create a new account form. Press escape to close.
Validate mail form. Press escape to close.
Lost password form. Insert an info and press enter to submit, or press escape to close.
Confirm address message dialog. Press escape to close.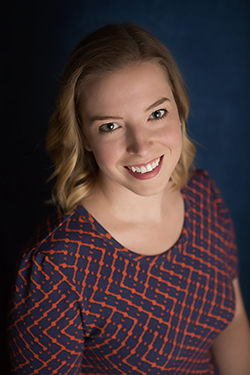 Kiersten Roberts is a hometown girl. Born and raised in Evansville, Ind., she attended college at University of Southern Indiana (USI), also in Evansville, and is now working at a manufacturing company there as well. Luckily for her, staying in Evansville has provided Kiersten with plenty of opportunities, including leadership roles both on campus and at her local IMA
®
(Institute of Management Accounting) chapter.
Kiersten recalls being interested in accounting from a young age. "I took a course in bookkeeping in high school, and I really liked it. I thought it was a good fit for me."
She went on to attend USI in 2006 and quickly decided to become an accounting major. Naturally, she also decided to join the school's student accounting club, which was a very active IMA student chapter. While there, she had the opportunity to participate in one of the most popular IMA student activities: the annual IMA Student Case Competition.
Kiersten was selected as part of USI's four-person competition team in both 2009 and 2010. For both years, the team made it to the finals, which included all-expenses-paid trips to the IMA Annual Conference & Expo where the final four teams of the competition got to present their cases live. In 2010, during the year the Conference was in Denver, the team won the competition.
"It was a great experience," she says of her time in Denver. "Having the opportunity to meet and network with professionals and to deliver a presentation in front of a large group of people." She also notes that the entire experience of participating in the competition gave her the chance to apply the knowledge she had learned in the classroom to a real-life situation.
Kiersten graduated from USI in the spring of 2010 and currently she works as an accountant (and soon-to-be assistant controller) at George Koch Sons LLC, an automated finishing systems fabricator, in Evansville. She believes her active involvement with IMA, especially the case competitions, set her apart from her peers and helped her secure that first full-time job right out of college.
And while she's been out of college for about seven years now, she has continued her service to IMA, where she has been involved in her local IMA chapter in Evansville. Since 2012, she has served as a board member in a number of leadership roles, including secretary, VP of membership, VP of professional education, director of the newsletter, and director of meetings.
Recently, she was elected president of the chapter, a position her husband held a few years previously. She will serve a term for the 2017-2018 year and already has plans to work with students.
"I definitely want to get more students involved in our local chapter, even perhaps serving in board positions. We're trying to encourage our current student members to invite their friends to attend meetings so that they can what we have to offer. I'm hoping that my experience at the USI chapter can bring about more opportunities for service projects, networking events, and other activities that can foster student-professional relationships," she explains.
That commitment to leadership and service is something that Kiersten is continuing to cultivate – and it's something that was nurtured during her experience as an IMA student chapter member.
"My time at USI's student chapter gave me some great skills. It gave me confidence to do public speaking, which is an incredibly useful professional skill. Perhaps even more important, it gave me the confidence to want to volunteer more." Judging by her assumption of increasingly higher leadership roles, she's clearly growing into that confidence.