The World's a Stage for this CMA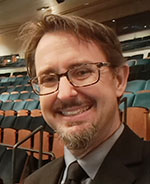 Singers, dancers, actors, musicians: Those are the most visible members of the theatrical community, the people who perform in the productions that entertain, inspire, and inform. But to put on an artistic production takes many more people—yes, the technical folks, but also those who run and manage the business side of things. For Mark Rowan, combining his passion for the theater with his interest in accounting has led to a rewarding, successful career. And it's one that's also been positively influenced by Mark's pursuit of the CMA® (Certified Management Accountant).
After graduating from James Madison University, where he majored in English, Mark moved to New York and entered the entertainment industry. For more than 10 years, he served as a company manager for Broadway, off-Broadway, and international tours. The role of company manager is an opaque one, which Mark describes as "basically being responsible for every non-artistic element of a theatrical production." In these roles as company manager, Mark learned the basics of accounting, although he admits that it was "trial by fire."
Working as a company manager was rewarding—but grueling (usually involving six-day work weeks)—and Mark discovered the harsh reality of working for a theatrical production: namely, job insecurity. "When the show closes, you lose your job," he explains. In hopes of securing a more stable career trajectory, he enrolled in a certificate course in accounting and finance at New York's Baruch College and began exploring jobs in the nonprofit sector. He eventually landed at the Dance Theatre of Harlem, where he spent six years. He started as a staff accountant, and it was there that he learned about the CMA.
"A colleague of mine was pursuing the CMA and I was intrigued, because I was trying to figure out a way to strengthen my career opportunities and gain new skills." Mark next spoke to the company's controller, a CPA, who told him that she was familiar with the CMA and felt that it was a more valuable certification than the CPA for the direction he was seeking.
Mark didn't act immediately on the idea, but an experience soon afterward rekindled his interest. He was interviewing for what he thought was his "dream job" and the interaction was going well, "until the interviewer flipped over my resume to see my education and certifications. I knew instantly I wouldn't get the job, but it was then I decided I wouldn't let that happen ever again. That's the moment I decided to commit to the CMA."
Preparing for the exam wasn't easy. Mark says his coursework at Baruch had given him the background to understand broad concepts, but he still had much to learn. Mark stuck closely to a demanding study routine: He spent two hours every morning, from 5 a.m. to 7 a.m., before work, using Wiley books, videos, flash cards, and practice tests. He also connected with a study group, via phone, to get encouragement and questions answered. After about nine months of preparation, Mark passed both exam parts in December 2021.
And just seven months later, Mark landed his current job, as controller of The Public Theater, the preeminent theater company in New York, if not the world. "I can say with 100% certainty that I would not have this job without the CMA. Yes, it took a long time to finally commit, but I'm now in what really is my dream job, thanks to the effort I put in."
Mark encourages those currently pursuing the CMA to not give up. "Those three letters after your name can really make a difference. For me, earning my CMA gave me the confidence to walk into an interview and know that I knew my stuff, and it helped dispel my imposter syndrome and gave me a great sense of pride and accomplishment."
Visit the IMA website to learn more about the CMA certification.