Pass the Marshmallow Test: Profile of CMA Jonny Baker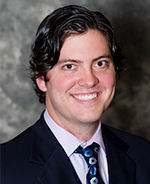 Jonny Baker always knew he wanted to pursue a career in business. So when he enrolled as an undergraduate at Texas A&M University, he quickly became an accounting major. He also discovered that those who liked accounting often were most interested in one of two things: financial accounting or managerial accounting. "I was definitely attracted to the managerial side of things, because I enjoy solving problems. That aspect of accounting was the most appealing to me," he explained.
Jonny learned about the CMA® (Certified Management Accountant) program by doing some research on his own about certification in early 2010. At the time, he was pursuing his MS in finance at Texas A&M and, although he had already planned to pursue his CPA, he also wanted to tap into what he most loved about accounting. The timing of learning about the CMA and finding the time to study for it worked out well. Jonny had already secured his first professional position, as an assurance associate at public accounting firm McGladrey (now RSM) in Dallas, but the job didn't start until six months after graduation. So, he decided to make preparing for the CMA his full-time job.
"I figured it was a good opportunity to take advantage of the time I had to make preparing for the exam my priority. I used the CMA prep materials that IMA offered, and I took practice test after practice test. I started studying while I was still a student and then, took both exam parts by the end of June," he said.
All that preparation paid off. At IMA's 2011 Annual Conference & Expo in Orlando, Fla., Jonny was presented with the Student Performance Award for achieving the highest score as a student during his testing period. And that performance was no fluke: Nearly a decade later, when Jonny took the CSCA® (Certified in Strategy and Competitive Analysis) exam, he received the ICMA Gold Medal for earning the highest score on that exam for the March 2019 testing period.
Being a CMA has served Jonny well throughout his career. After his stint in public accounting, he next took a position at AT&T in Dallas (along the way, he also earned his CPA, his CIA, and his MBA). Although he's exceptionally qualified with a broad range of business knowledge, Jonny acknowledges the benefits of his CMA certification: "It gave me the confidence to approach tough quantitative issues. The principles I learned from the certification are ones that I use every day in my work with clients."
These days, Jonny makes use of his CMA and CSCA, as he's a partner and leader of strategic management consulting services at KHA Accountants, PLLC. For those preparing for the exam, Jonny offered some advice:
"The payoff of the exam is large and tangible. You may not see the results immediately—but for the short-term pain, you will realize long-term gain." He references the famous Stanford marshmallow experiment, a psychological study conducted in the late 1960s and early 1970s that found that the ability to delay gratification is critical for success in life.
"Pass the marshmallow test. Get the knowledge now—and keep the end goal in mind."
Visit the IMA website to learn more about the CMA certification.