Change username form. Insert an info and press enter to submit, or press escape to close.
Create a new account form. Press escape to close.
Validate mail form. Press escape to close.
Lost password form. Insert an info and press enter to submit, or press escape to close.
Confirm address message dialog. Press escape to close.
Scott Ambourn earned his CMA® (Certified Management Accountant) more than two decades ago, and it's served him well over those many years. "It was a very different exam when I took it in the early 1990s, but in many ways, its purpose is still the same: to provide practical knowledge and skills that can give you an edge in your career and enable you to add value to your organization." Currently, Scott is a senior financial analyst at the global headquarters of Minneapolis-based CWT (formerly Carson Wagonlit Travel), the world's fifth largest travel management company.
Scott took the exam after he had become a CPA and was working at a private company, Red Wing Shoes. The company was very supportive of Scott's desire to increase his professional knowledge and it firmly supported his CMA journey. At that time, the CMA was a four-part test, and Scott made time to study for it while he was working full time.
Over the years, Scott worked at other companies, both public and private, before landing at CWT. Part of his professional journey has included being involved with his local IMA® (Institute of Management Accountants) chapter, (both the St. Paul and the Minneapolis Chapters), where he served in various leadership roles. That experience proved beneficial to Scott's career for many reasons, chief among them the opportunities for networking.
"There's really no substitute for networking in person, for meeting people face-to-face and having a personal conversation," he said. "Some of that is lost with our reliance on electronic media, and so I've always valued the times I've spent at chapter meetings, talking with and becoming acquainted with other professionals in the area."
Scott's commitment to IMA found another outlet: his son, Jake, now a senior in high school. Following in his dad's footsteps, Jake expressed interested in pursuing an accounting career and, eventually, joining IMA. "He found that he really liked his accounting classes in high school and it's what he wants to study in college. He's gone to a few chapter meetings with me and it's been great to get to share the experience with him." Even better, Jake secured an internship position thanks to an ad in an IMA communication.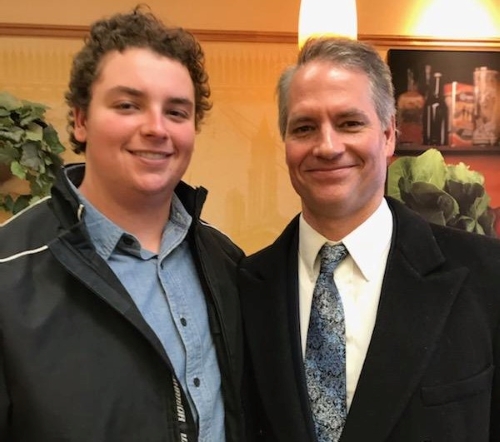 Scott with his son, Jake.
Scott also shares his IMA experience as the contact person for CWT's group IMA membership. He helped the company enroll in IMA's corporate membership plan and is the point person for information about IMA and local chapter activities. "I consider it part of my volunteer service to IMA," he said.
Although he took the exam a while ago, Scott is more than willing to offer words of advice for CMA hopefuls: "It's worth the effort," he explained. "Don't give up if you hit a rough patch. Keep going, because earning your CMA is something you can carry with you for the rest of your career." He also especially appreciates the CPE requirement (30 hours every year) for CMAs: "It forces you to continue your education throughout your career. It's a great way to keep improving yourself and to ensure you have the most updated knowledge about the field."