Change username form. Insert an info and press enter to submit, or press escape to close.
Create a new account form. Press escape to close.
Validate mail form. Press escape to close.
Lost password form. Insert an info and press enter to submit, or press escape to close.
Confirm address message dialog. Press escape to close.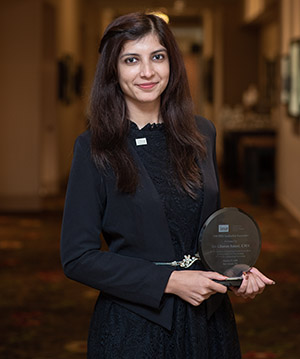 Izz Ghanaa Ansari learned about the CMA
®
(Certified Management Accountant) certification in a pretty unusual way: a local newspaper article. She recalls: "I was reading a story about the accounting field in Pakistan and the author provided his email for feedback or questions. I decided to write to him to discuss some of the points he had raised, and to ask him about what certifications stood out in his eyes. He mentioned the CMA and after I did some research about the program's curriculum, I decided to go for it and add this certification to my profile."
Izz's profile is already impressive. In her early 20s, she currently serves as assistant manager at KPMG Islamabad (Pakistan), where she began her career as an associate just four years ago. She believes becoming a CMA has already benefited her professional journey, most notably in providing her with the ability to think globally.
She explains, "During my exam preparation for the CMA, I went through a number of case studies to enhance my understanding of the subjects. As a result, I was more aware of the best practices being followed by organizations all over the world, the challenges they were facing, and where and how to look for solutions. My enhanced knowledge and skills to look at information analytically as a result of the CMA made me stand out in the organization I work for. It has definitely helped my career progression."
Among her proudest moments since becoming a CMA has been being selected as one of the six members from around the world to attend IMA's Young Professional Leadership Experience in San Antonio, Texas, last fall. As part of that program, Izz attended meetings of the IMA Global Board of Directors, where she "learned the value of volunteering and servant leadership." She also enjoyed being invited as one of six students from the Middle East and Southeast Asia to attend the IMA Student Leadership Conference held in Detroit in November 2016. "Even today, I am in touch with the amazing speakers at the conference who still take personal interest in my development as a professional even though we are from different continents," she says.
Thinking about advice for other CMA hopefuls, Izz has very practical suggestions: "In this age of technology, greater premium will be placed on analytical and decision-making skills in the future while the repetitive accounting tasks will be handled by machines. So, pursue the CMA certification with the aim of developing these vital skills. I'd also suggest considering the practical application of each topic included in the syllabus, because the curriculum has been planned with its practical value in mind. This attitude will make preparing for the exam less challenging and more fruitful."
She also notes the exam's Learning Outcome Statements have been carefully researched and are, in her words, "meticulously tested." She explains: "Keep these learning outcomes in front of you at all times when you're studying. Rather than trying to fulfill a targeted number of study hours, it's better to make sure that these outcomes are met for each topic."
That's wise advice from someone who passed the exams on the first sitting and scored very high.