Change username form. Insert an info and press enter to submit, or press escape to close.
Create a new account form. Press escape to close.
Validate mail form. Press escape to close.
Lost password form. Insert an info and press enter to submit, or press escape to close.
Confirm address message dialog. Press escape to close.
Dennis Whitney, CMA, CFM, CAE, ICMA senior vice president, spent several weeks this fall traveling to share information about the CMA
®
(Certified Management Accountant) certification, discuss the future of the profession in the age of robotics, and to strengthen relationships with current and potential partners.
The trip began in the U.S., at the
10th Annual NERC Fall Conference
, hosted by the IMA NorthEast Regional Council. The three-day conference was held in Southbridge, Mass., in late September and featured a presentation by Whitney on how the CMA and IMA's new CSCA
®
(Certified in Strategy and Competitive Analysis) credential can help "turbocharge your career." Other conference speakers included Raef Lawson, Ph.D., CMA, CPA, IMA vice president of research & policy and professor-in-residence, who discussed the topic of "Cost Management as a Strategic Weapon."
Following this U.S. event, Whitney traveled abroad to the Netherlands and the Middle East:
The Netherlands

Whitney started his Netherlands trip with a presentation at the European Association of Test Publishers Annual Conference, where he discussed the CMA program's impressive global growth over the last 10 years. Whitney then participated in a workshop sponsored by the IMA Amsterdam Chapter. The workshop, held on Sept. 28, was focused on professional ethics and during his talk Whitney discussed the recently revised
IMA Statement of Ethical Professional Practice
, as well as gave an update about the CMA program. Other speakers at the event included Eric Dortland, who serves as Governance, Risk, Compliance, and Assurance Advisor for Shell Projects; and Fred Vlotman, Emeritus Professor, Management Accounting, who covered the importance of ethical standards for controllers and management accountants.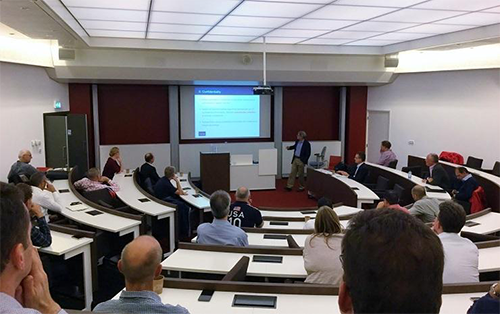 Whitney leads a workshop on ethics and the CMA program for members of the IMA Amsterdam Chapter.
Whitney also led a "state of the business" meeting for CMA course providers across Europe. Course providers in the Netherlands joined in person while course providers from across Europe joined via WebEx. During his talk, Whitney provided an update on the CMA program and the new CSCA credential.
The Middle East

Whitney began the Middle Eastern leg of his trip by speaking at the
IMA Middle East 5th Annual Regional Conference
, held in Abu Dhabi, U.A.E., in early October. The two-day conference, titled "Together Towards Tomorrow: Performance, Resilience, and Innovation," attracted more than 140 attendees from 10 countries, who gathered together to discuss global and local issues affecting the management accounting profession. Whitney's talk focused on data analytics, where he advised attendees: "In order to be relevant and influential in the digital age, the profession must step up with a call to action and sense of urgency. Accountants need to learn more statistics and programming to augment their analysis skills, but they also need to develop a more strategic perspective. This means developing and sustaining new competencies in the areas of data science and strategy."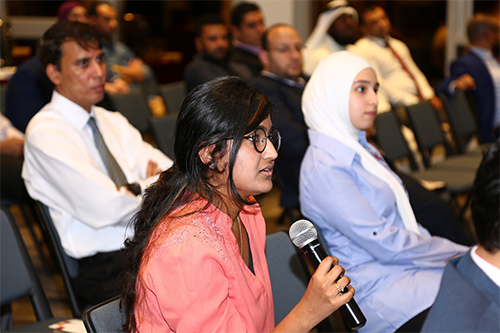 Whitney's session in Kuwait was well attended by IMA members eager to know how they can prepare for the future of management accounting.
The conference was followed by two events in Saudi Arabia – which were sponsored by IMA partners Wiley and Morgan International – and one in Kuwait, sponsored by the IMA Kuwait Chapter. At all three events, Whitney discussed the topic of "Management Accounting in the Age of Robotics," where he described the analytical skills needed now and in the future and the role of the CMA credential in helping to "future-proof your career."
For more information on IMA's activities in Europe, please visit
http://europe.imanet.org/
. More information about IMA Middle East can be found at
https://imamiddleeast.org/
.