Change username form. Insert an info and press enter to submit, or press escape to close.
Create a new account form. Press escape to close.
Validate mail form. Press escape to close.
Lost password form. Insert an info and press enter to submit, or press escape to close.
Confirm address message dialog. Press escape to close.
Joining a cadre of respected organizations committed to excellence, Ping An Group, a leading financial services company in the People's Republic of China, was recognized as the recipient of the 2017 Bulloch Award. The award was presented by IMA
®
(Institute of Management Accountants) Chair Alex Eng, CMA, CPA, Esq., who bestowed the honor in person during his trip to China this past November. Accepting the award on the company's behalf was Ray Li, Ping An's deputy CFO.
Ping An and its subsidiaries provide various financial products and services focusing on insurance, banking, asset management, and internet finance businesses primarily in the People's Republic of China. The company has more than 130 million customers and 1.5 million employees. In fact, one out of every 1,000 people in China work for Ping An or its subsidiaries.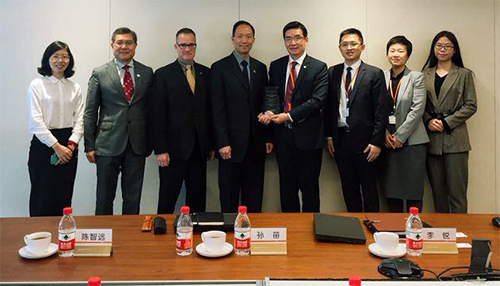 IMA leaders, including IMA Chair Alex Eng, present the 2017 Bulloch Award to Ping An.
The Bulloch Award, given annually to an organization that has demonstrated outstanding sponsorship, encouragement, and support of the CMA
®
(Certified Management Accountant) program, honors the memory of Dr. James Bulloch, the first managing director of ICMA
®
. Bulloch helped to create the original CMA framework as well as develop the high standards of the CMA program that are still followed today. Previous Bulloch Award winners have included Xerox Corporation, Saudi Aramco, Caterpillar, Johnson & Johnson, the Defense Finance and Accounting Service (DFAS), SAFEA (State Administration of Foreign Experts Affairs), China South Industries Group, and Cummins Inc.
Said Paul Juras, CMA, CPA, Ph.D., ICMA Board of Regents chair, "ICMA is pleased to recognize the support of Ping An, which has achieved outstanding results in encouraging employees to pursue CMA certification. Currently, the company has more than 200 active CMAs and more than 400 candidates now preparing to take the exam. Ping An considers the CMA certification as a tool to drive all of their management accounting efforts and, as such, provides full financial support for those who pursue and pass the exam. The company has integrated the 'CMA spirit' into its entire culture so that sound management accounting practices are embedded in everything they do."
For more information on Ping An, please visit
http://www.pingan.cn/en/index.shtml
. More details on the CMA program can be found at
https://www.imanet.org/cma-certification
.