Change username form. Insert an info and press enter to submit, or press escape to close.
Create a new account form. Press escape to close.
Validate mail form. Press escape to close.
Lost password form. Insert an info and press enter to submit, or press escape to close.
Confirm address message dialog. Press escape to close.
"Global Connections, Local Impact": A Message from Josh Heniro
Dear Members,

I am thrilled to share with you the latest updates on our community as we kick off the first newsletter for the year. First, I want to extend my heartfelt thanks to all of you for your continued engagement with and support for IMA® (Institute of Management Accountants). Your dedication to our organization and the management accounting profession is the driving force behind our collective success.

I am excited to announce that our Asia Pacific office is stepping up to provide direct support for Japan and Korea, which will enhance our presence in these regions and foster stronger partnerships with local organizations. With this change, however, comes the departure of Nina Michels-Kim, who has served as our regional director for many years and who played an instrumental role in building and serving our membership in Japan and Korea. We are grateful that Nina will continue to be involved with our region as a chapter and board member, and we wish her all the best as she begins the next phase of her professional journey as a U.S. CMA® (Certified Management Accountant) and CSCA® (Certified in Strategy and Competitive Analysis).

Speaking of the CSCA, IMA recently expanded the eligibility criteria for this certification. This development means that more professionals can now pursue this highly regarded certification, which will equip them with the skills and knowledge to excel in strategic roles and drive their organizations forward. For more information, view this press release, which includes a list newly eligible certifications that now qualify for the CSCA.

Congratulations to all the outstanding performers on the U.S. CMA and CSCA exams during the September-October 2022 testing window. Your hard work and dedication are an inspiration to us all. I would also like to welcome our new student chapters. Furthermore, we extend our appreciation to our chapters and partners for their continued support of our community and the events and webinars organized.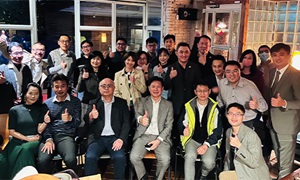 Lastly, I want to thank everyone who participated in our recent IMA Taipei Chapter event and gathering (see photo above). The event was a resounding success, bringing together fellow IMA members to network, learn, and share industry insights.
Once again, thank you for your unwavering support and commitment to IMA. Together, we will continue to advance the management accounting profession and make a positive impact on the global business community. If you have any questions, comments, and suggestions, please do not hesitate to contact me at SEAsupport@imanet.org.

Kind regards,

Josh Heniro, Ph.D.
Managing Director, Asia Pacific