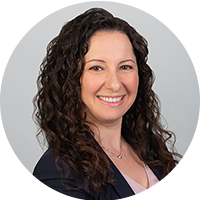 Ellen Gurevich, CAE
Chief Marketing Officer/Senior Vice President, Marketing and Communications
Ellen Gurevich is IMA's chief marketing officer and senior vice president of marketing and communications. Ellen oversees the day-to-day operations of IMA's global Brand team, consisting of marketing, PR and communications, and digital experience. She is responsible for leading her team in designing and delivering a compelling brand message across all IMA products, channels, and markets, and developing transformative global growth and retention strategies.
Ellen joined IMA in 2014 as director of integrated marketing. In 2015, she was promoted to vice president, integrated marketing, joining the executive leadership team, and in 2023, she was promoted to her current position. Prior to joining IMA, Ellen spent nine years at American Express Co., where she held roles in charge card product management, charge card marketing, partnership marketing, and membership rewards. Before that, Ellen worked at HSBC Bank USA for five years, completing an executive trainee program and serving in roles in private banking, small business and middle market commercial lending, commercial real estate underwriting, and project management.
Ellen earned her Certified Association Executive (CAE) credential in 2020. She is a graduate of Brandeis University, with a bachelor's degree in economics.