IMA Chair Heads to China
IMA
®
(Institute of Management Accountants) Global Board of Directors Chair Marc Palker, CMA, recently spent seven jam-packed days in the People's Republic of China, strengthening alliances with review course providers, corporate partners, and educational institutions while also cultivating new relationships to help further advance IMA's already-established presence in the region.
China and the Asia Pacific region represent a strong and growing market for IMA. Based on the May 2017 membership report, total CMA
®
(Certified Management Accountant) candidates from this region now exceed 22,000, higher than any other region by a wide margin. Currently, the region boasts more than 29,000 members (about 25% of total members) and more than 4,700 CMAs.
Palker's trip included visits to both Shanghai and Beijing, where IMA maintains offices as part of its network that includes a staff of 19 professionals throughout China. Palker was accompanied on the trip by Jim Gurowka, CAE, IMA vice president of international business development, and Alan Bai, IMA chief representative in China.
Highlights of the trip included meetings with Golden Finance, the biggest CMA review course provider in the region, which is expected to recruit approximately 8,000 CMA candidates in 2017. Palker also spoke at events in both cities, where he discussed the topic of "The Role of the CFO in Strategic Planning." The event in Shanghai, sponsored by Golden Finance, attracted more than 300 while the one in Beijing attracted more than 150 professionals eager to learn more about the benefits of CMA certification.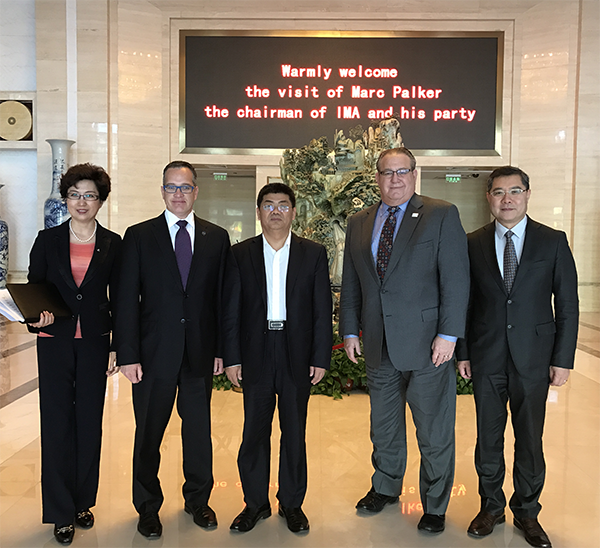 Marc Palker and IMA Officials meeting with executives from China National Gold Group.
In Shanghai, Palker also met with managing partners from PwC Shanghai as well as with the president of SNAI (Shanghai National Accounting Institute), with which IMA has developed a mutually beneficial relationship over the years.
In Beijing, Palker met with managing partners from KPMG and EY as well as with influential professional associations CICPA (Chinese Institute of CPAs) and BASC (Banking Accounting Society of China). He also met with leaders from UIBE (University of International Business Economics), a highly regarded educational institutional in China and across the world, as well as attended IMA's first meeting with the director of UIBE's education steering committee. In Beijing, Palker also met with numerous state-owned enterprises.
Commenting on his experience, Palker said, "I very much appreciated the opportunity to visit China and witness first-hand the strength of IMA's presence in the region and, especially, the fervent demand for our CMA certification and management accounting education.
"I was encouraged by the welcoming reception we received during all of our meetings and events, and was impressed by the level of awareness about the value of the CMA. I believe the attractiveness of our CMA certification in the region stems from several factors, including the introduction of a Simplified Chinese version of the exam 10 years ago, as well as the certification's comprehensive base of knowledge, its portability, and the fact that it is a U.S.-based certification. These factors make the CMA particularly compelling to those working in multinational corporations and state-owned enterprises.
"As a worldwide leader in management accounting, IMA is valued in China as a source of education, knowledge, and skills that can help professionals advance their careers and add value to their organizations. We will continue to strengthen our presence there and seek out new opportunities as well."
For more information about IMA's activities in China, please visit
www.imanet.org.cn/
.