"We Earned It!" IMA Receives Industry Recognition for CMA Campaign
IMA
®
(Institute of Management Accountants) is pleased to share news of its recent award win and nominations for the CMA
®
(Certified Management Account) "You've Got to Earn It" campaign. IMA won a platinum award from
Hermes Creative
in the creative advertisement campaign category. IMA is also a finalist in the
Excel Awards
from the Association of Media and Publishing for the ad campaign category; and, IMA is a finalist for the complete integrated campaign for PRSA-NY's (Public Relations Society of America – New York)
Big Apple Awards
. The Excel and PRSA Big Apple award winners will be announced in June.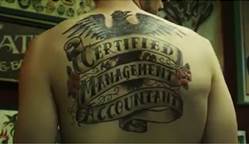 Launched in September 2016, IMA's multi-year campaign includes television, radio, print and digital ads, a new website experience, paid search, and integrated public relations and marketing communications. The cornerstone of the campaign is a 30-second commercial featuring a management accounting professional who is so proud of earning his CMA certification, that he gets a large tattoo on his back as his coworkers jockey to be next in line for new ink. To see the commercial, visit
https://youtu.be/8fMMpSrjGqc
.
The campaign was created in partnership with advertising agency, The Gate New York; public relations agency, Stern Strategy Group; and IMA staff. "What's exciting about this campaign is its focus on the sense of pride and mastery of management accounting issues that comes with earning your CMA. Other certification programs might find it acceptable to grandfather in their candidates, but with the CMA, you've got to earn it," said Jeff Thomson, CMA, CAE, IMA president and CEO. "There is a market need for talented finance professionals, so we're highlighting that the CMA adds credibility to your name and shows employers that you are competent and capable of adding value to business."
For more information about the CMA certification, visit:
https://www.imanet.org/cma-certification?ssopc=1
.